23 Dec

Making Bath Time Fun For Little Ones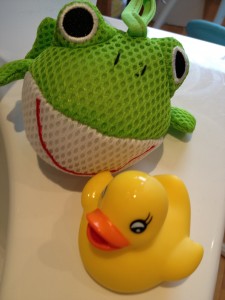 Bath time for little ones may be one full of fear for parents if their children don't enjoy going in the bath to get clean. The stress of getting their hair and body wet or being naked in the bath can be quite upsetting for little ones but by making bath time a more enjoyable experience it can be a positive and rewarding time for both.
Here are some top tips to make bath time more fun for little ones: –
Establish a bath time routine. Children often thrive on routine so establishing a regular bath time will help children understand it's an important part of everyday life.
Let children play with some fun bath time toys. Bath squirters or foam puzzle shapes allow children to explore the water and can make their bath time more enjoyable.
Stay calm and positive during bath time as you'll want to spend plenty of time with your little ones building up a positive experience in the bathroom.
Use a body wash that is a gentle cleanser so it won't irritate sensitive skin, add the body wash to the water instead of putting it directly on the skin or a flannel.
Buy little ones their own flannel; there are lots of flannels and sponges out there with children's favourite characters on which will encourage little ones to clean not only themselves but Mickey Mouse or Olaf too!
If your little ones hate having their hair washed, buy a fun foam mirror and let them see themselves with bubbles in their hair. It can make them laugh and want to play around with the fun shapes on top of their head.
Give little ones their own hooded towels or bath robes to make them want to wear their robes after their bath.
Let little ones dry off by gently patting their skin rather than rubbing. Once they are dry, you could introduce five minutes of gentle massage using appropriate products like AproDerm® Colloidal Oat Cream for their dry skin that will relax them and get them ready for bed.
Follow bath time with teeth brushing to encourage good habit.
We would love to hear from you.
Leave your comments below and post via the Facebook icon to keep up to date with what others are saying too.