08 Apr

6 Things You Can Do At Home With Your Kids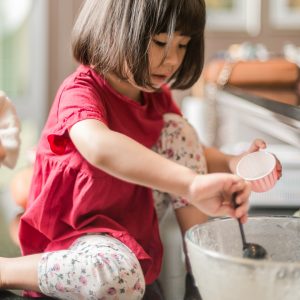 There are so many reasons you may find yourself unable to get the kids out of the house. More often than not it's due to the weather. However, this time round you will find yourself stuck indoors due to the dreaded Covid – 19 lockdown. As it may be getting increasingly difficult to explain to your little ones why they need to stay inside, you will need to find some things you can do at home with your kids in order to divert their attention. You need activities that will keep them busy and engaged.
Don't panic. You didn't think we were going to leave you to work this out all by yourselves did you?… Check out our list of 6 things you can do at home with your kids. Hopefully you'll find a few activities here that you'll both enjoy.
1. Make a Den
You cannot go wrong with a den, what child (or adult) would not love their own den. A place where they can lay claim and retreat to whenever 'princess busy body' or 'captain snackalot' feels like. A place where their imagination can run wild underneath the safety of blankets, sheets, pillows, tables, chairs, and any other household items you can lay your hands on.
What you'll need:
A table (relatively high, a dining table or desk is ideal)
A laundry basket or large bucket
Sheets, blankets and duvets
Two chairs
Cushions, pillows or mix it up with both
How to make it:
The table will be your base. It's easy to set up, easy to tidy away and more sturdy than just sheets
Add an upturned laundry basket or bucket on top of your table for that tepee look
Add a chair either side to create a bigger space inside
Now drape your soft furnishings! Fitted sheets are great as the elasticated corners can be tucked under table or chair legs to stay in place
Layer up for a darker, cosier den. You could even have a scavenger hunt around the house for materials – blankets, duvets, even Dad's dressing gown!
Pile up pillows and cushions inside for the perfect play area
What den isn't perfect without a front door – hang a sheet from the lip of the table and pop something sturdy on it to keep it from falling down or use some super clips
Finish it off with your own personalised den sign.
2. Arts and Crafts
There's nothing better than passing some time with some arts and crafts. Your little one can express their creativity whilst having fun making life size figures, collages or finger painting, not to mention they're great for brain development and mental wellbeing. Why not visit AproDerm® Kids Zone where you can bring the AproDites to life with our fantastic papercraft models. Each print out sheet contains a list of what you will need to make your AproDite, along with simple step by step instructions on how to build your models. Personalise them by painting them, sticking on sequins or decorating with shells – it's up to your child. Once you have completed them share your child's models with us on social media with #aproditemodels. We would love to see your hard work.
3. Indoor Treasure Hunt/ Easter Egg Hunt
Aye aye Captain! Draw a map of your home and hide treats or treasures around the house. Write clues on word cards (or pieces of paper) and get the little ones to follow the clues to hunt their surprises down. Make sure you explain the map to your kids. To make the clues more fun use rhyming patterns in your description for example, 'I help grow something green and get watered a lot, I am what you call a …. ' the answer being …plant pot. For more treasure hunt ideas click here.
Better still get the little ones to get their imagination flowing and to create their own treasure hunt and you have a go. Good luck!
4. Baking
Baking can be tricky and messy but is terrific for harnessing young children's attention, keeping them engaged, not to mention the enjoyment of getting to eat what they've made ?. You can find several Kids' baking recipes online. So…What are you waiting for – grab that apron and get cooking – you can even do your own family bake off. Even better, getting your little one to help clean up after is good practice for encouraging good hygiene and housekeeping skills.
5. Puzzles
Jigsaw puzzles, crossword puzzles, riddles, word searches, maths puzzles and trivia puzzles – the list is endless! Why not print off some that your little ones can complete on their own or with you. Word puzzles help make learning how to spell fun and let your child practise the spelling rules they have learnt at school. If you're looking for some online puzzles head over to Games Central on our Kids Zone and as a new AproDite recruit your child can pick their mission. Solve Eczii's Crossword Puzzles, help the AproDites successfully complete their quest to find the hidden words in our Word Searches, have a go at solving Eczii's Shuffle Puzzles or they can put their detective skills to the test with Captain Apro's Spot the Difference. We look forward to welcoming your little one to our crew.
6. Write a Story
Who wants to write a story!! Writing stories are a fun way to help develop a child's written language and explore their imagination. It lets children learn how to put their thoughts together, use written language to express those thoughts and how to communicate with readers. It will also help your little one better understand stories written by others. Follow this step-by-step guide on how to help your child write a story. Let them pick an idea and see where their imagination takes them and you!
These are just 6 things you can do at home with your kids, hope you enjoy. Check out our AproDerm® Kids Zone to enjoy some of our activities and read our online storybook. These are exceptional circumstances which allow us to spend some valuable time with our little ones, keeping them safe whilst helping them to grow. Whatever you do with your children above all have fun!
We would love to hear from you.
Leave your comments below and post via the Facebook icon to keep up to date with what others are saying too.