12 Oct

AproDerm® – A new emollient cream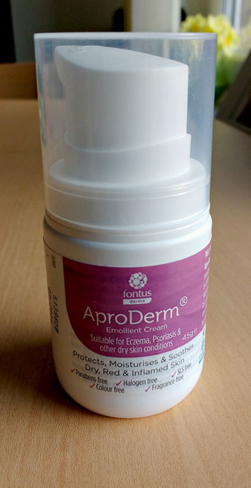 As a beauty blogger I have tried out countless skin creams over the years and completely take for granted that my skin can handle all these different types and formulations of products. My other half however is not so lucky with his skin and suffered terribly since he was young with eczema, which means it can be a real nightmare to find products that don't worsen the situation. He has tried a whole load of products in the past to try and soothe flare ups and can now quickly tell what work and what definitely won't!
I was really intrigued to see what the latest development from Fontus health could do for his cracked and broken skin and was delighted to get a hold of a sample of the new Aproderm cream. Working in a lab himself, Ally is always the first to give an ingredients list a thorough inspecting and after a string of disappointments in prescribed creams, he was instantly impressed. Being SLS, paraben and fragrance free, this new emollient cream has been developed to combat dry skin conditions such as eczema, psoriasis and dermatitis.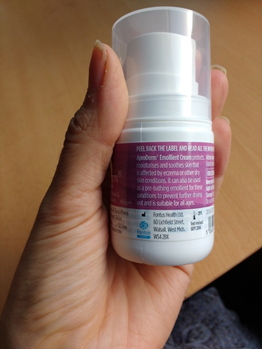 The cream was an instant hit with Ally who at the time was suffering from an angry broken out patch of eczema under his chin and with cracked skin on his hands. He was delighted that 3 days with a small amount on the chin problem saw all traces of flakiness go and the skin on his hands was instantly far less itchy and dry around the cracked skin. He has been using his cream for the last few weeks, treating specific areas and applying a thin layer on his face to keep any breakouts at bay, and has been really impressed. The cream is easy to apply, not shiny or greasy and best of all it has really helped his troublesome skin.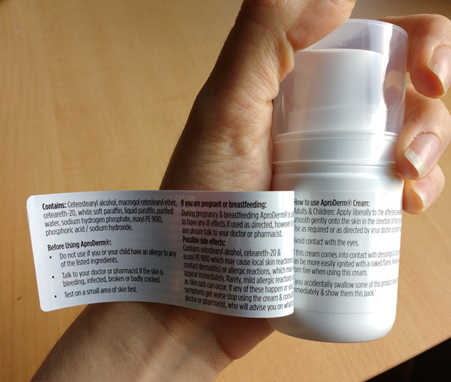 I don't suffer from eczema myself but I have been using quite strong skincare recently to help with my own skin problems which has left me with really dry patches of skin at the side of my nose. I have ended up borrowing from him as I found Aproderm was perfect for keeping my flaking skin areas at bay which means I can apply my make-up far better!
Overall we have both been really impressed with this new cream and with so many other treatments provided very little relief from his eczema he was delighted that Aproderm has given him great results.
We would love to hear from you.
Leave your comments below and post via the Facebook icon to keep up to date with what others are saying too.